Hi, over last days following major changes have been made:

-added 21 new sets (9 PvP, 12 PvE) each one with unique bonuses
-removed attack speed from distance weapons
-full monster and spawn rework
-removed elemental damage from melee weapons
-removed all worthless items from the game
-redesigned quests rewards, daily rewards

--- Posted by Zelek
Hello, today's changelog:

-slightly increased experience rate for level 1900+
-fixed monsters attacking each other
-added new transform for 2500 level
-updated techniques tab
-partially reworked monsters (up to 2000 level)

planned changes for today/tomorrow:
-monsters and spawn rework
-items rework

--- Posted by Zelek
Hello, today's changelog:

-added 5 new playable characters: Black Goku, Jiren, Zamasu, Cabba, Beerus
-updated techniques tab
-removed professions tab (all info is in techniques tab now)
-added Items and Monsters tab (info will be updated soon)
-C18, Beerus, Goten, Cooler and Cell are now distance professions

--- Posted by Zelek
Hi, today's changes:

-changed few spells effects, please download new client
-changed website layout
-updated techniques tab
-reworked almost all spells
-magic wall cooldown reduced to 5 seconds
-fixed bug with senzu lagging

Please inform us about your thoughts of this spell changes.

--- Posted by Zelek
Hello,

Beta Tests already started.
Some informations:

Exp: 10x higher than official
Skill: 10x higher than official
Loot: 10x higher than official

Item Shop will be free for the time Beta is online.

Some initial changes:
-added "Quests" tab listing all quests tutorials available
-added option to choose quantity of items bought from Item Shop (buy many items at once)
-changed PvP Enforced formula - players will get as much experience as someone else looses divided by number of players attacking and damage dealt

If you find any bug or have any suggestion about our game please write a post on our forum or contact administration directly in the game.

See you!

--- Posted by Zelek
Hello,

Beta Tests will start tomorrow (09.04) at 6PM CEST and will stay online for atleast a week.

Experience and skill gain will be 10x faster as we would like to focus on PvP and late game.

Everyone is welcome to join us testing and balancing stuff, all suggestions matter.

You can create your character now.

See you in game!

--- Posted by Zelek
06.04.19 - End of edition
Hello players,

Current edition will end on 08.04.2019. Thank you all who have played and are still playing while I'm writing this post.

We are planning another Retro edition which will probably start on 01.05.2019, but this time we will put a lot more effort in balancing PvP and overall gameplay experience.

To help with that beta tests will come online somewhere in the middle of this week (09.04-11.04), we will inform you with the exact date later.

Thank you all again and hope to see you on the next edition!

--- Posted by Zelek
04.02.19 - Distance changes
Hi,

Piccolo and Dende will now have to wear 2 distance weapons to get full damage.

Furthermore, all distance weapons that adds attack speed skill have its values reduced by half.

We did this change because it was not fair that only 2 professions out of more than 20 were able to upgrade just 1 weapon to get its full potential.

--- Posted by Zelek
Hi,
quite some changes has been applied today including overall damage reduce from melee/dist damage and slightly increase to spell damage.

In addition, all vocations has been adjusted to match their attributes on profession page.

Delay to attack new target has also been changed. It is almost 3x longer now.

--- Posted by Zelek
Hi, today's changelog:

-yellow ki, sun ki and green ki will now have attack as other balls and will skill ki blasting
-increase skill multiplier for ki blasting
-fix for distance damage

--- Posted by Zelek
Hi, today's changelog:

-fix for power talent
-fix for NPC Porks (changing pfq effects)
-fix for LMS Event (senzu counter)

Changes:
-LMS Event will now happen everyday instead of every 2 days
-increase shards and gift boxes drop chance for stronger monsters by 50%

--- Posted by Zelek
Hi,
we are preparing some balancing wich will include:

-change hit range for auto attacks: 60-80% instead of 40-100% for more consistent damage
-adjusting melee and distance damage to be more equal

Furhtermore, few new achievements will be added:
-The Underworld Champion (complete Underworld Quest)
-Event Addict (win 10 PvP Events)
-Personal Forge (successfully upgrade item 15 times)
-Animal Tamer (make a rider pact)

--- Posted by Zelek
28.01.19 - PvP Tournament postpoing
Hello players,
I was unable to hold the tournament this weekend due to personal problems that occured.
Tournament will take place the next saturday (02.02.2019) instead.

To compensate this unfortunate event there will be +25% skill bonus for a week.

--- Posted by Zelek
Hello, today's changelog:

-you can ride your mount without need of fighting monster again and again by simply typing !rider mount_name in protection zone

After global save more changes will apply:
-add exhaust to dropping items to prevent anti-push bot
-fix for pvp events
-remove everyone's notation for anti-push

--- Posted by Zelek
24.01.19 - PvP Tournament
--- Posted by Zelek
24.01.19 - Talent points changes
Hello,
Talent Points system has been changed. All your points and bonus stats have been resetted. Please allocate them again.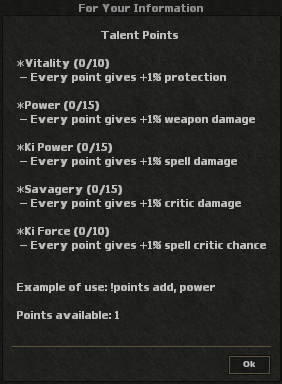 --- Posted by Zelek
Today's changelog:
-fix for stacking too many people in the same sqm resulting in a debug
-add senzu beans in backpack to NPC Senzu Seller ("buy bp senzu")

--- Posted by Zelek
Today's changelog:
-fixed MCM Part 3 quest
-fixed Chou Maretsugeki quest
-fixed Senzu Seller bug
-fixed Teleport Room bug
-added !notations command
-nerf disqusine attack by 40%
-nerf super final slash by 30%
-buff explosive wave by 30%
-fix daily mission rewards
-added countdown to genki dama for last 10 seconds

After restart more changes will apply:
-fix distance damage bug on melee characters
-spell overall damage increase by 20%

--- Posted by Zelek
Server will come back online at 18:00 CET

--- Posted by Zelek
--- Posted by Zelek
--- Posted by Zelek
Hello players,

Dragon Ball Better Story Retro Edition will start at 19th January 4PM CET.

Many of you have been asking us about resurrecting this edition and we finally decided to deliver!

In this version of our server you will be able to get this nostalgic feel, hunt old monsters, make new friendships and fight your enemies just like in old times.

Furthermore, there are also new things coming to this edition to make it even better than it was:
-last man standing event once every 2 days (winner gets premium points reward but everyone get some XP and money)
-PvP Event Ranking (top 3 PvP Event players get premium points reward every week - click here for more info
-proxy system (connect from Brazil, USA with lower ping)
-character market (trade your character for premium points or buy character from other player)
-lot of bug fixes to make your gameplay even more enjoyable than before
-client improvements (visible manabar under health bar, HP/KI in percents and full values in the same time)
-better transformation system with revert
-monsters can respawn when player is on screen (not sagas and bosses)

Whats old?
-22 various professions
-rider system with bonuses
-guild wars and emblems on guild members
-30 different map locations for you to explore
-60 saga missions
-achievements and bonus stat points
and pretty much everything else as Retro Edition would suggest.

Game multipliers:
Exp: starting at 30x, ending at 0.1 at level 3000
Skill: 4x (staged attack speed)
Loot: 2.5x
Exp for killing other players: 1x
Max reborn: 1000 level

Create your character now and join us at 19th January!

Kind regards,
DBBS.net.pl administration


Win one of 20 codes each worth 15 premium points by liking and commenting our facebook post!
Double your chance to win by sharing it on your facebook timeline.

https://www.facebook.com/dbbs3/posts/1962818343839775

--- Posted by Zelek

Nie ma na mnie kozaka
545 kills

pogromcy veka
357 kills

beta testy
79 kills

Krwawe Misie
3 kills

Majorka
3 kills